Research Centre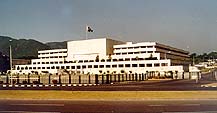 The Research Centre undertakes substantive, nonpartisan analytical research for the National Assembly and produces breifing papers to assist the legislative work. It provides the Honourable Members with relevent research papers, including legislative histories, background papers on significant policy issues, and short papers on topics of timely legislative interest as well as current national and international affairs.
The research staff, comprising subject specialists on Political and International Affairs, Economics, Law and Sharia and other related issues, provides quick reference help to Members.
The Public Relations Wing is currently working under the supervision of Miss Qudsia Qazi (Director General).
Director General
Miss Qudsia Qazi
/2345
9201781
P.A.
/2488
9201781
Back to main page