Public Relations Wing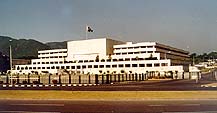 There are three different Directors which assist Public Relations Wing i.e. International Relations ( IR ), Inter-Parliamentary Relations ( IPR ) and Public Relations.
This Wing deals with protocol matters, all arrangements relating to incoming and outgoing delegations, keeping liaison with Inter-Parliamentary Inion ( IPU ) and the association of Secretary Generals of Parliaments, The Commonwealth Parliamentary Association and the Association of SAARC Speakers and Parliamentarians.
It maintains public relations and also keeps relations with both broadcast and print media and also issues press releases.
The Public Relations Wing is currently working under the supervision of Mr. Junaid Iqbal (Additional Secretary).
Additional Secretary (Administration & Public Relations)
Jonaid Iqbal
9202737
/2444
P.S. to Additional Secretary
Muhammad Idrees
9202737
/2294
Directors
Sibte Hassan, Dir. ( PR )
/2349
9209649
Tahir Hanfi, Dir. ( IPR )
/2414
9206493
Feroz Khan, Dir. ( IR )
/2466
9202091
Back to main page