---
Benazir Bhutto
LEADER OF THE OPPOSITION
A PROFILE
---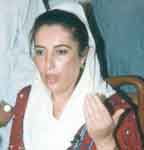 Benazir Bhutto the leader of the Pakistan Peoples Party, is the daughter of Mr. Zulfiqar Ali Bhutto, former Prime Minister of Pakistan. She was elected as Prime Minister in 1988 and then again in 1993, but both her governments were dismissed before the completion of the five years.
Unlike some other politicians on the National horizon, Benazir Bhutto today is also perceived as a politician indigenous roots. It is this quality that is the basis of her rather intimate rapport with the people of Pakistan.
She is the Leader of opposition in the National Assembly, which in the Parliamentary System is of much great importance.
---
Leader of the Opposition
Benazir Bhutto
9204516
9221147
/2269
P.S. to Leader of Opposition
P.S.
9204516
/2274
P.A.
/2275
Back to main page