Automation Centre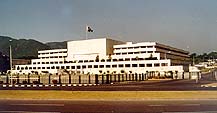 In the modernisation process of the National Assembly Secretariat, the Automation Centre has played a pivotal role. All the branches of the Secretariat have been computerised and the information has been transferred on-line for easy and timely access.
The Questions, Resolutions, Ordinances, Bills, MNAs biographical directory, clipping of Newspapers, Constitution of Pakistan, Ruling of the Chair, Rules of Procedure and Conduct of Business, Joint Sitting Rules, Finance Committee Rules, Constitutional Ammendments have also been fed in the computers.
The Centre's main duties are System designing, developing, running, modification, maintenance and extension of computer applications; selection and evaluation of computer equipments; technical control of Management Information System (MIS); Database Management; Inventory control of computer hardware, software and personal computer.
The Closed CircuitTelevision (CCTV), Simultaneous Interpretation System (SIS) and Printing Unit of the National Assembly are also supervised by the Automation Centre.
Director
Jamal Abdul Nasir
/2404
9222971
Back to main page