Administration Wing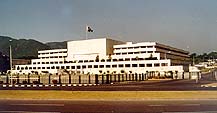 Administration deals with all the matters related to the administration of the National Assembly Secretariat and Security matters. In addition, its responsibilities include arrangements for holding the sessions of the National Assembly and meetings of the committees; maintenance of Parliamnet house and the Parliamentary Lodges through Capital Development Authority (CDA).
The Branches that assist the Administration Wing in carrying out its work include the Sergeant-At-Arms Branch , Establishment Branch, Service Branch, Budget & Accounts Branch, Cash & Reciept & Issue (R&I) Branch, and Transport Cell.
The Administration Wing is working under the Supervision of Additional Seceratary (Administration).
Additional Secretary (Administration & Public Relations)
Jonaid Iqbal
9202737
/2444
P.S. to Additional Secretary
Muhammad Idrees
9202737
/2294
Back to main page